Our materials are gallery quality. Canvas prints are built with high quality, UV-resistant, environmentally-friendly, fade-resistant, latex archival inks and artist-grade poly-cotton canvas. Our archival inks prevent fading to preserve as much fine detail as possible over time.
Construction:
Built to last with precision around a 1.5 inch kiln-dried wood frame, a processed pine wood material that has all moisture removed to prevent further damage. Each frame also has extra support inside due to the large size of our canvas prints. Each canvas wrap is then hand-stapled with care to ensure tight corner folds and secure construction so they stay firm with tight, clean corners for years to come.
1.5" Kiln-Dried Framework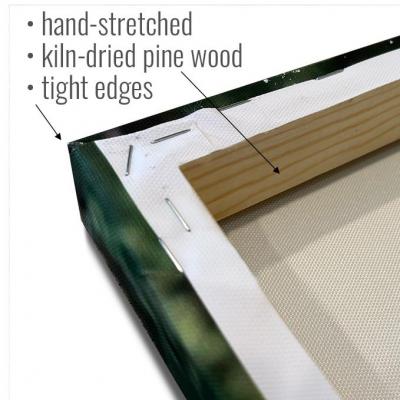 Hand Stretched, Tight Edges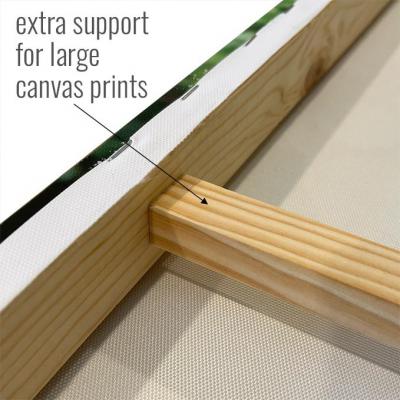 Canvas material:
We use artist grade cotton/polyester canvas materials that are acid-free, specifically 65% Polyester and 35% Cotton. Polyester is used in order to preserve the durability, elasticity, and low cost of our products, yet still maintaining the natural, breathable qualities that cotton provides. Our acrylic coating further protects our canvas from damage and staining, keeping the canvas as low-maintenance as possible. Our final finish provides a Matte/Natural White look in order to maintain the neutrality of the base, so that our photos will look their best as they are stretched over the frame.
Composition: 35% cotton, 65% polyester
Finish: Matte / Natural White
Texture: Medium
Our canvas prints are slightly more heavyweight for a quality feel, but it is much lighter than a standard framed painting and less likely to cause damage to the wall. With a medium weight of 320 grams per square meter (GSM) or 9.5 ounces per yard squared (OSY), our canvas is made to be just sturdy enough while still keeping the material light and flexible. There are 470 microns which measures the diameter of the fibers, making it about 7 times thicker than the average human hair! This thickness gives our canvas the durability it needs as well as the unique texture that accompanies canvas.
Weight: 9.5 osy / 320 gsm
Thickness: 18.5 mil / 470 microns
Weave Construction: 2:1
Clean Corner Fabrication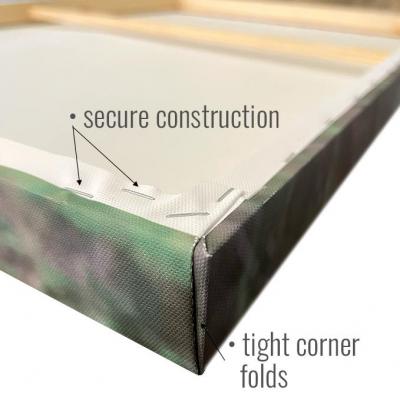 Printers and Ink
We have the latest HP Latex printers and archival ink to produce consistent and quality results. The inks are environment-friendly and reduce fading for up to 200 years according to HP.